Sigmar Polke
11th Rubens Price of the City of Siegen
24.6.–23.9.07
Raster pictures, experiments with substances, mineral substances, historical picture motifs and now also "shaky pictures" – Sigmar Polke tried everything. On June 24, 2007 he was the eleventh artist to receive the renowned Rubens Prize of the city of Siegen. On this occasion, the Museum of Contemporary Art dedicated a large exhibition to him.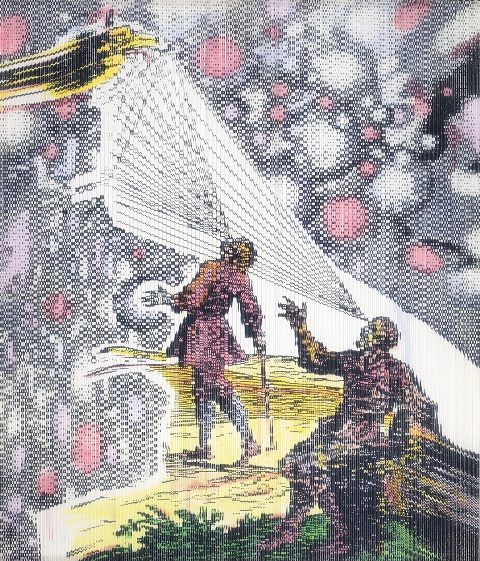 The focus was on pictures that he presented to the public for the first time. Here Polke worked with the so-called lenticular grid. Its transparent and wavy surface causes refractions of light and animate the viewer to move if he wants to see the motif from different perspectives. Polke showed more than 80 works in the Siegen exhibition, 30 of them for the first time using this new technique. The exhibition was specially designed by the artist for the Siegen Museum of Contemporary Art.
Sigmar Polke is considered a 100% painter, he experiments continuously and uses new means and procedures again and again. Processes such as planning, intuition and controlled coincidence always come together in new ways in his work. Props of economic miracle, wanderlust and cosiness determined the material of his pictures in the 1960s. In the 1970s he expanded his range to include motifs from the German fairy tale and legend world. This is followed by quotations from picture sheets, from the history of art and culture, as well as from current and political events. The virtuoso in dealing with image references is at the same time an experimenter with different colour materials that highlight the processual nature of painting.
The Rubens Prize of the City of Siegen
Parallel to the Polke exhibition, the ten Rubens Prize laureates to date have been shown comprehensively in the Lambrecht-Schadeberg Collection. This painting collection, located in the Museum für Gegenwartskunst in Siegen, shows exclusively representative work complexes of the Rubens Prize laureates. Currently almost 100 works belong to the collection (as of 2007).
The Rubens Prize, founded by the city of Siegen in 1955, has since been awarded to a living European artist every five years. The external jury, which spoke in favor of Sigmar Polke as the 11th Rubens Prize laureate in the city of Siegen in spring 2006, is represented by five experts from the field of museums, art criticism, teaching and the visual arts.
Before Polke, the painters Hans Hartung (1957), Giorgio Morandi (1962), Francis Bacon (1967), Antoni Tàpies (1972), Fritz Winter (1977), Emil Schumacher (1982), Cy Twombly (1987), Rupprecht Geiger (1992), Lucian Freud (1997) and Maria Lassnig (2002) were awarded the Rubens Prize.