Maria Lassnig
Painting Body and Soul
8.9.06–7.1.07
Next to a selection of works from the other nine laureates of the City of Siegen's Rubens Prize (Francis Bacon, Lucian Freud, Rupprecht Geiger, Hans Hartung, Giorgio Morandi, Emil Schumacher, Antoni Tàpies, Cy Twombly, Fritz Winter), from September to January the Lambrecht-Schadeberg Collection concentrated on the art of Maria Lassnig. The artist received the tenth Rubens Prize of the City of Siegen in 2002; it was the first time the prize went to a woman.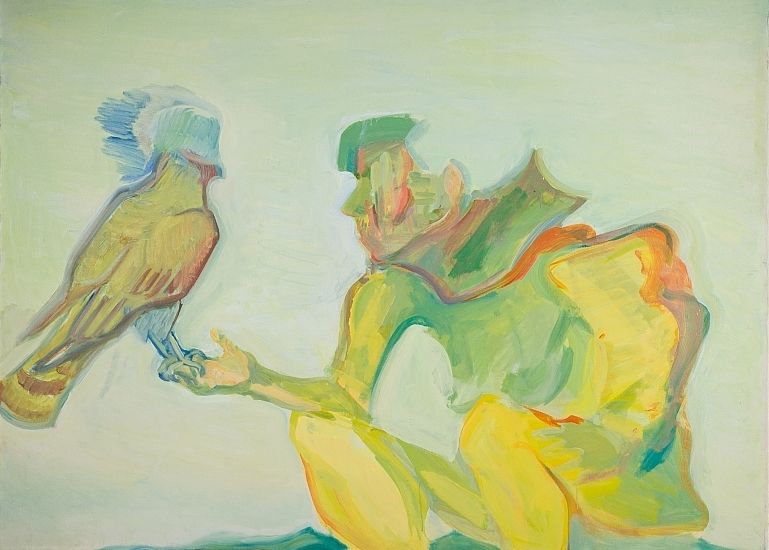 Maria Lassnig (1919–2014) began referring to the results of her painting as "body awareness paintings" at a very early stage in her work. Her pieces monitor physical, psychological, and existential conditions by bringing these to canvas partly in an abstract-concrete, partly in a figurative manner. Her technique includes concentrated accents next to nervously impulsive strokes; in her paintings movement and speed are as essential as the manifest ultimate precision. All of these qualities engender the hypnotic effect Lassnig's pictures are marked by. The luminous, cool colours she uses – light green, pink, and violet – are mostly applied to a grey background. These colours imply that, in an act of supremely concentrating on introspection, the inner idea of bodily perception was visualized and that that visualization reflects, filters, and objectifies the obsessiveness of the inner cognition.
The artistic position Lassnig assumes, therefore, is convincing because the stakes she involves are so enormously high. Lassnig herself described the secret of her art in the following way: "For the work process to go easily is very difficult to achieve."
In 2002 the Museum für Gegenwartskunst Siegen presented a broad exhibition of Maria Lassnig's works. Since then the number of her pieces in the Lambrecht-Schadeberg Collection has steadily grown. Presently (as at 2007), seven of her works belong to the Collection, four of which we are now being presenting for the public to see for the very first time. This special presentation is complemented by one loan each from the Museum Ludwig in Cologne and the Kunstsammlung NRW in Düsseldorf, respectively, to form a petite retrospective of the artists' work from 1955–2005.
Supported by RWE Rhein-Ruhr Corporation.