Emil Schumacher
They are not landscapes, but how could I evade Nature?
14.1.–20.5.07
Emil Schumacher provided the focus in the Lambrecht-Schadeberg Collection from January to May. The work of the German artist (1912–1999) was honoured with the 8th Rubens Prize of the city of Siegen in 1987.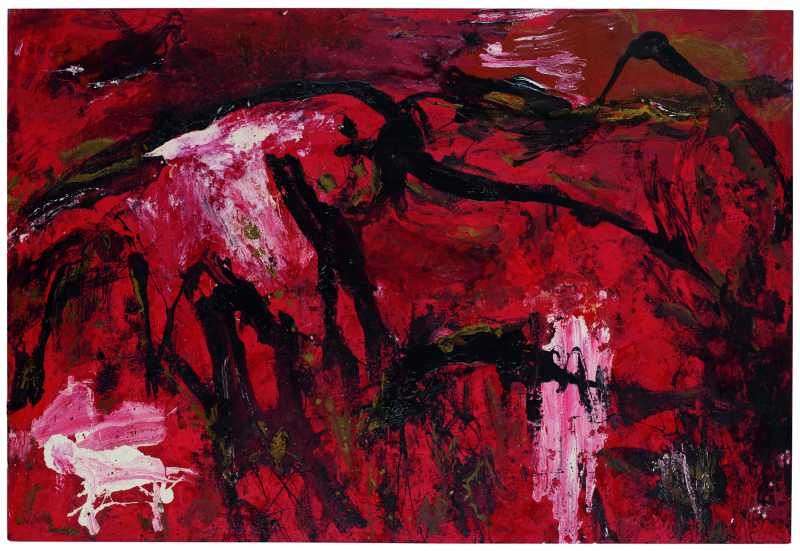 Alongside a selection of works by the other nine Rubens Prizewinners, Francis Bacon, Lucian Freud, Rupprecht Geiger, Hans Hartung, Maria Lassnig, Giorgio Morandi, Antoni Tàpies, Cy Twombly and Fritz Winter, the museum shows ten of Schumacher's works from the collection, including two new acquisitions and eight additional works on loan from the Emil Schumacher-Foundation Hagen, the City of Siegen, and private collections.

"The finest years, those of my youth, were the ones taken from me" is an often repeated, haunting quotation from Schumacher, referring to the years 1933 to 1945. In its brevity it expresses the relevance of each phase for the development of an artistic life's work. Given this "wasted" life-span, the development of his work after 1945 is all the more impressive. Schumacher's painting is representative of German art in the second half of the twentieth century, and it has always been received as such, for he participated in documenta II (1959), documenta III (1964) and documenta IV (1976) – to cite just one example indicative of the artist's success story.
Schumacher's painting is universal. It creates worlds and dissolves them. It is sign, writing and chromatic material, it embodies transitions in time and shape. The pictorial body confronting the viewer invites him to lose himself while pushing him away to an equal extent. The overview in the Museum für Gegenwartskunst Siegen begins with the tactile objects from the second half of the fifties, shows key examples from different phases of work, and extends to include "Libusa" from 1995, a magnificent example of the late work.