Armin Linke, Aglaia Konrad
concrete & samples
28.5.–20.9.09
With the singular exhibition "concrete & samples", the Museum für Gegenwartskunst Siegen returned to photography. Conceptually an exhaustive comparison of two single presentations from Algaia Konrad and Armin Linke, this exhibition highlighted the specificity of photography and drew awareness to the idiosyncratic differences between the artists.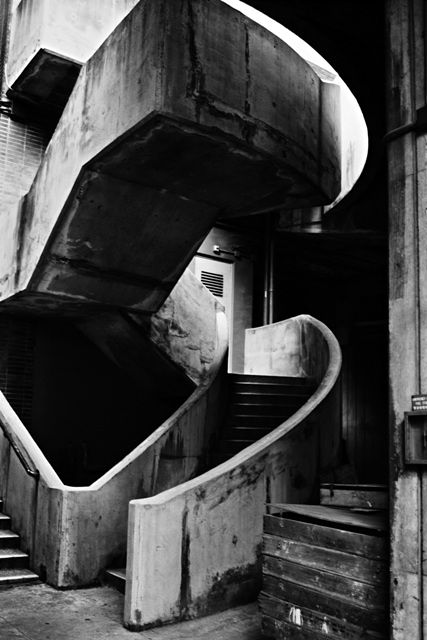 Armin Linke (born 1965, lives in Milan) and Aglaia Konrad (born 1960, lives in Brussel) have much in common. Both artists are untiring travellers, both concentrate on the massive landscape and urban changes of the present, and both refer to encyclopedic and typological models in a rhetorical manner. In contrast to classic architectural photography, which presents monumental buildings from a front or side view, these artists depict tunnels, river dams, bridges, or industrial plants, often from overhead. Next to this and in changing perspectives the photographically documented buildings are shown in their reference to people.

This reference to society, the dialogue between architecture and people, plays an equally essential role for the public's perception: Both Konrad and Linke reject the passive approach of an audience found in classic architectural photography and embrace an own method of presentation and performance.
Aglaia Konrad's site-specific photographic arrangements consist of a multitude of photocopies, silk screens, and other materials on various backgrounds such as glass or wood. Similar to a stage setting these panels lean against the exhibition walls, sorted over, under, and next to each other. The mobile photographies merge with the exhibition room into an exciting performance for the public. Variations of this method are works that are applied directly to the exhibition walls as wallpaper, video, or slide slide-shows. In each case, a presentation unfolds, one which includes the viewer, his point of view and movement.

Armin Linke presents his photographic archive as such, no longer simply as an instrument of the photographer who remains unseen in the background. The artist's main thematic components are those activities that are connected with archiving such as selecting and categorizing – in turns systematically and intuitively, regarding division and blending, with the purpose of questioning hierarchies. A further central element within the exhibition are experimental forms of the exhibition furnishings. The process of choosing and arranging series is delegated to the viewer. It is an important aspect for Linke that the photographies are shown not only as individual pictures but also within a system of variable ordering hallmarks. In this context the "Book on Demand" should be mentioned. On Linke's internet homepage partial visitors have the ability to put together their own book using 16 motives. The artist's entire archive, organized according to criteria such as location, name, or theme can be accessed by the user.
The exhibition "Aglaia Konrad, Armin Linke – concrete & samples" was generously supported by the state government of North Rhine-Westphalia, the North Rhine-Westphalia Art Foundation, the Vlaamse community and the museum's circle of friends. The Sparkasse Siegen and the PwC Foundation for Youth – Education – Culture are sponsors of the educational work.