The More I Draw
Drawing as a Concept for the World
5.9.10–13.2.11
Sprawling fantastic worlds, fictitious maps, exuberant, comic-like picture stories, diagrams depicting the knowledge of the world, subconscious doodles that illustrate the soul's inner workings: Drawing is a spontaneous, sweeping artistic medium through which myriad realities become unfurled.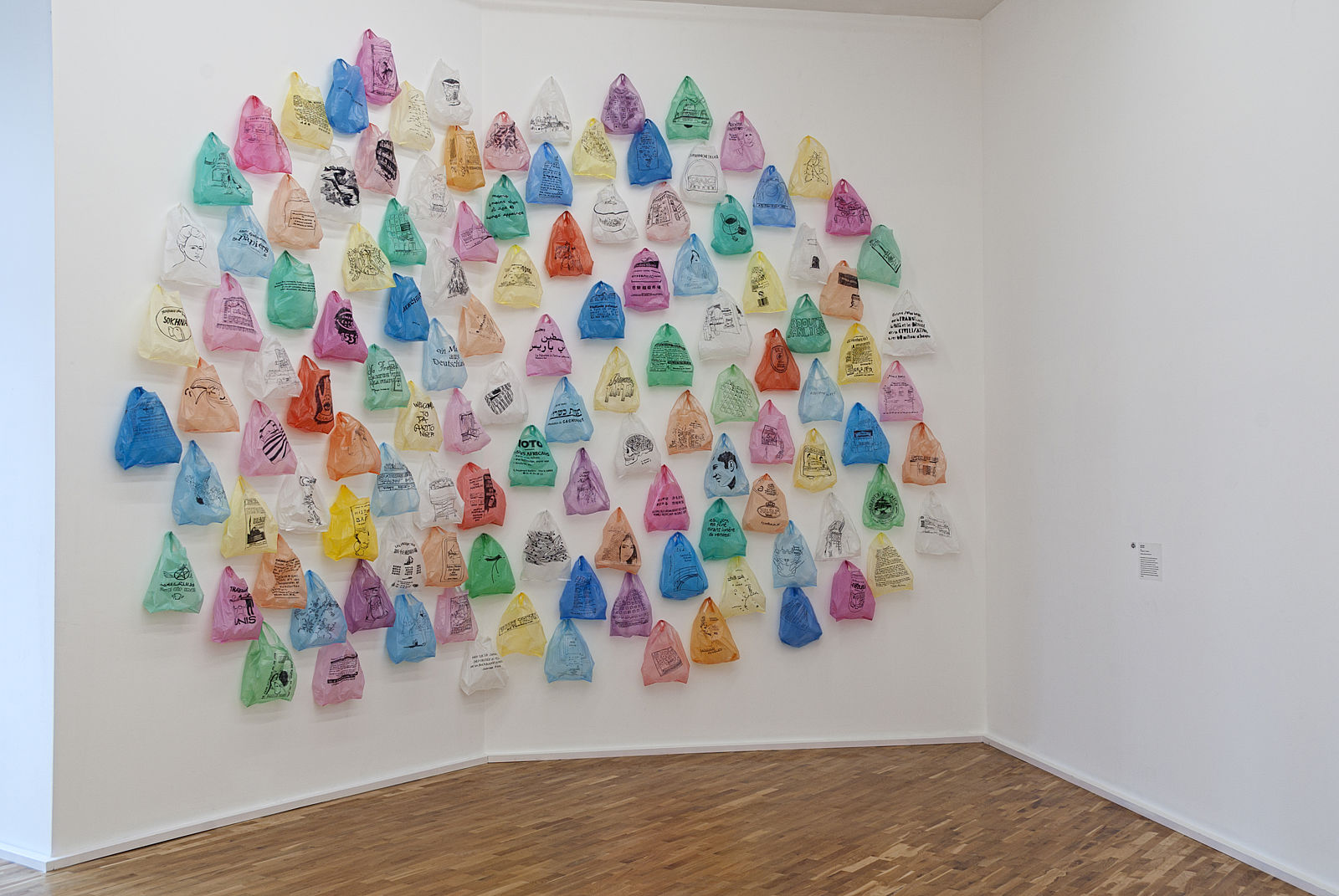 Drawing is also a medium that directly connects with our everyday experience: Every child draws, every adult scribbles regularly, draws up plans, sketches routes, attempts a portrait or simple chart.

On over 1,400 square meters the overview exhibition "The More I Draw" at the Museum for Contemporary Art Siegen highlights the tendencies of drawing in contemporary art since the 1960s, focusing on the serial, narrative, descriptive, and mythologizing forms. The exhibition shows 41 international artists and aims at revealing the definitive role drawing plays in modern art, a role that was conceived by Conceptual Art, which discovered drawing as an original art medium and to a large extent helps to revaluate it through its conceptual traits.

Well-known artists' approaches are shown in an historical retrospective, such as Joseph Beuys, Frédéric Bruly Bouabré, or Cy Twombly, but also other important illustrators of the following generation, for example Anna Oppermann or Tomas Schmit, among others. A focal point of the exhibition is the actual practice of drawing, visualized by extensive groupings of works and drawing installations by contemporary artists such as Jorinde Voigt, Dan Perjovschi, or Alexander Roob, artists who have expanded drawing as an art form experimentally and through performance.
With contributions by
Joseph Beuys
Frédéric Bruly Bouabré
Cy Twombly
Gerhard Rühm
André Thomkins
Stanley Brouwn
Anna Oppermann
Hanne Darboven
Katharina Meldner
Tomas Schmit
Barbara Camilla Tucholski
Heinz Emigholz
Anne-Mie van Kerckhoven
Nanne Meyer
Peter Radelfinger
Silvia Bächli
Harald Falkenhagen
Joseph Grigely
Alexander Roob
Raymond Pettibon
Nedko Solakov
Mark Lammert
Dan Perjovschi
Johnny Miller
Dorothea Schulz
Tracey Emin
Claude Heath
Pia Linz
Hannes Kater
Pavel Pepperstein
Sandra Vásquez de la Horra
David Shrigley
Chloë Piene
Ryõko Aoki
Christelle Franc
Katrin Ströbel
Ralf Ziervogel
Constantin Luser
Dasha Shishkin
Jorinde Voigt
Mariusz Tarkawian
"The more I draw" is part of the series of major thematic exhibitions at the Museum of Contemporary Art Siegen ("Contexts of Photography", 2005, "Faites vos jeux!", 2006, "Dancing, Seeing", 2007, "Blickmaschinen", 2008), in which central themes and forms of work of contemporary art are highlighted.
The exhibition and the accompanying program were generously supported by the Governor of the State of NRW, the NRW Art Foundation, the Federal Art Foundation, Pro Helvetia, the Swiss Art Foundation, the Sparkasse Siegen, and the Museum's Circle of Friends.