Maria Lassnig in Drawing
Studiolo
28.5.–3.10.21
"The drawing is closest to the idea. The drawing is closest to the moment. For each moment there is just one possibility."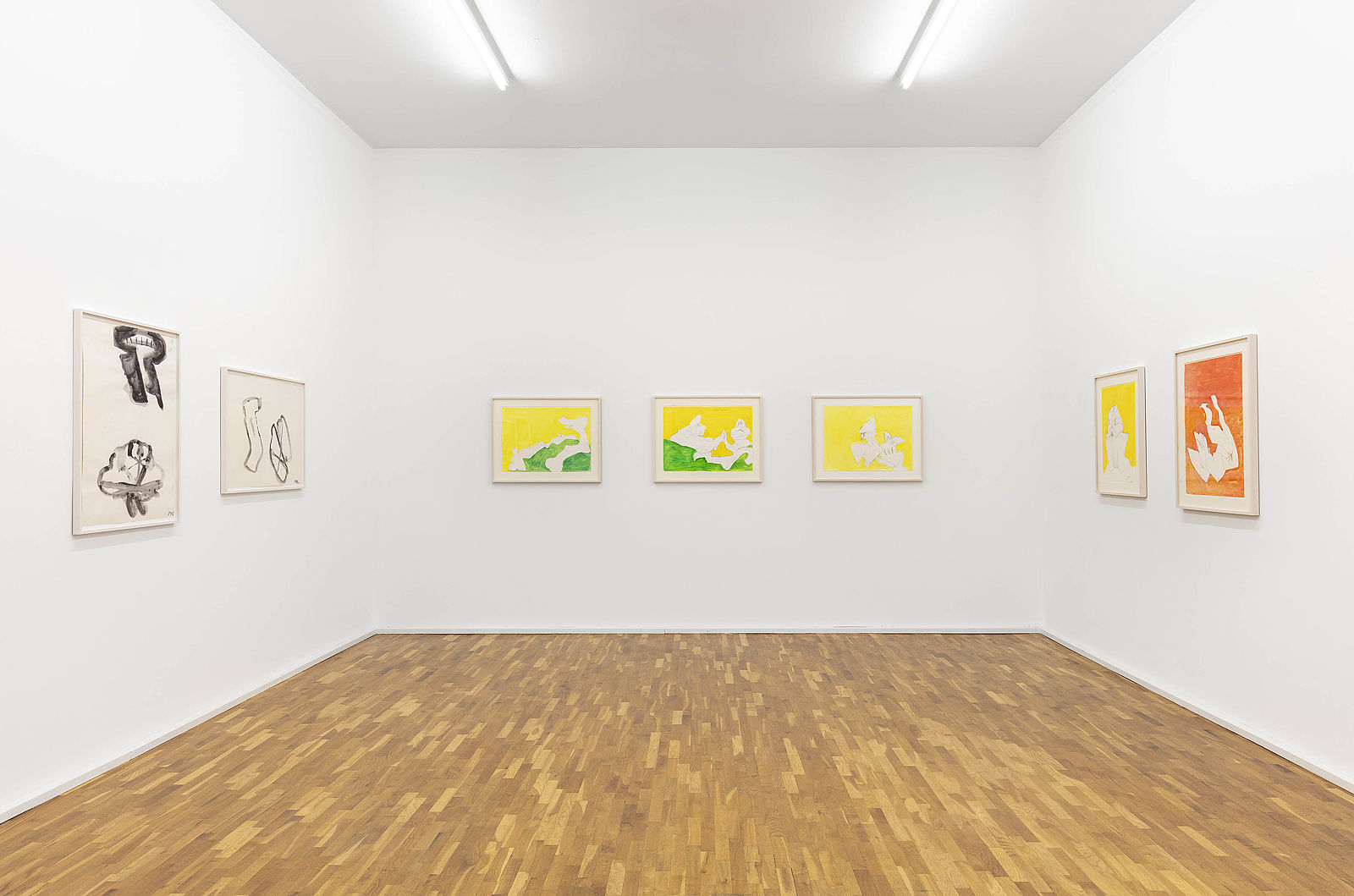 Maria Lassnig (1919–2014) used these words to explain the immediacy of drawing, which was the medium's charm for her. In addition to her painting, Lassnig devoted herself extensively to drawing in her artistic production, and it was even decisive for her film work.
For the first time, newly acquired drawings by the artist (1974–2009) as well as an early painting from the Lambrecht-Schadeberg Collection will be shown as part of the new exhibition format "Studiolo". The Studiolo is a dynamic space within the MGKSiegen collection. In future, here the attention in regularly changing presentations will be on individual focal points and groups of works from the Lambrecht-Schadeberg Collection.
"Maria Lassnig in Drawing", the first presentation incorporating acquisitions from the last three years, provides a deeper insight into Lassnig's drawn œuvre. Crayon drawings are included as well as pencil drawings in combination with coloured acrylic, gouache or tempera backgrounds and finally, ink drawings. In her works on paper, motifs are tested and explored – they are not direct preliminary studies for her paintings but are autonomous. The artist brings her interest in physicality to paper in the depiction of realistic and amorphous figures.
Besides realistic images such as "Neighbour with her Dog", there are also freer but still descriptive narratives such as "Eye Head" and "Genie in a Bottle". Others are more cryptic and leave space for interpretation – "Age of Chivalry", for example, appears simultaneously playful and unsettling, as does "Silent Green". Its title could refer to the green surface reminiscent of grass on which the almost amorphous foot-like figures merge. "My Birth is Difficult", on the other hand, refers to a physical sensation, a fundamental theme in Lassnig's work.
Pairs are often found in the works, as in "Mother and Child", "Above and Below", the already mentioned "Silent Green" or "Untitled". As well as feelings relating to, or from one's own body, relationships to the environment and to other people are also decisive for every physical sensation. Thus, the newly acquired painting "Zwei Nebeneinander / Doppelfiguration" (Two Next to Each Other / Double Figure) from 1961 also fits in with the exhibited drawings, almost like a painterly commentary. The near graphic brushstroke on the canvas, which is otherwise left blank, causes the boundary between drawing and painting to almost disappear.
Drawing forms a separate complex of works within Lassnig's extensive œuvre. Our presentation conveys her repertoire of themes and techniques and makes it possible to experience Maria Lassnig's work beyond the moment.