6 × Francis Bacon
…and other highlights of the Lambrecht-Schadeberg Collection
7.5.17–18.2.18
Francis Bacon (1909–1992) is regarded as one of the most important 20th-century painters. He was self-taught and began painting in the 1920s. Inspired by Pablo Picasso, Van Gogh and Velázquez, he created melancholy, aggressive works with tremendous presence and impact.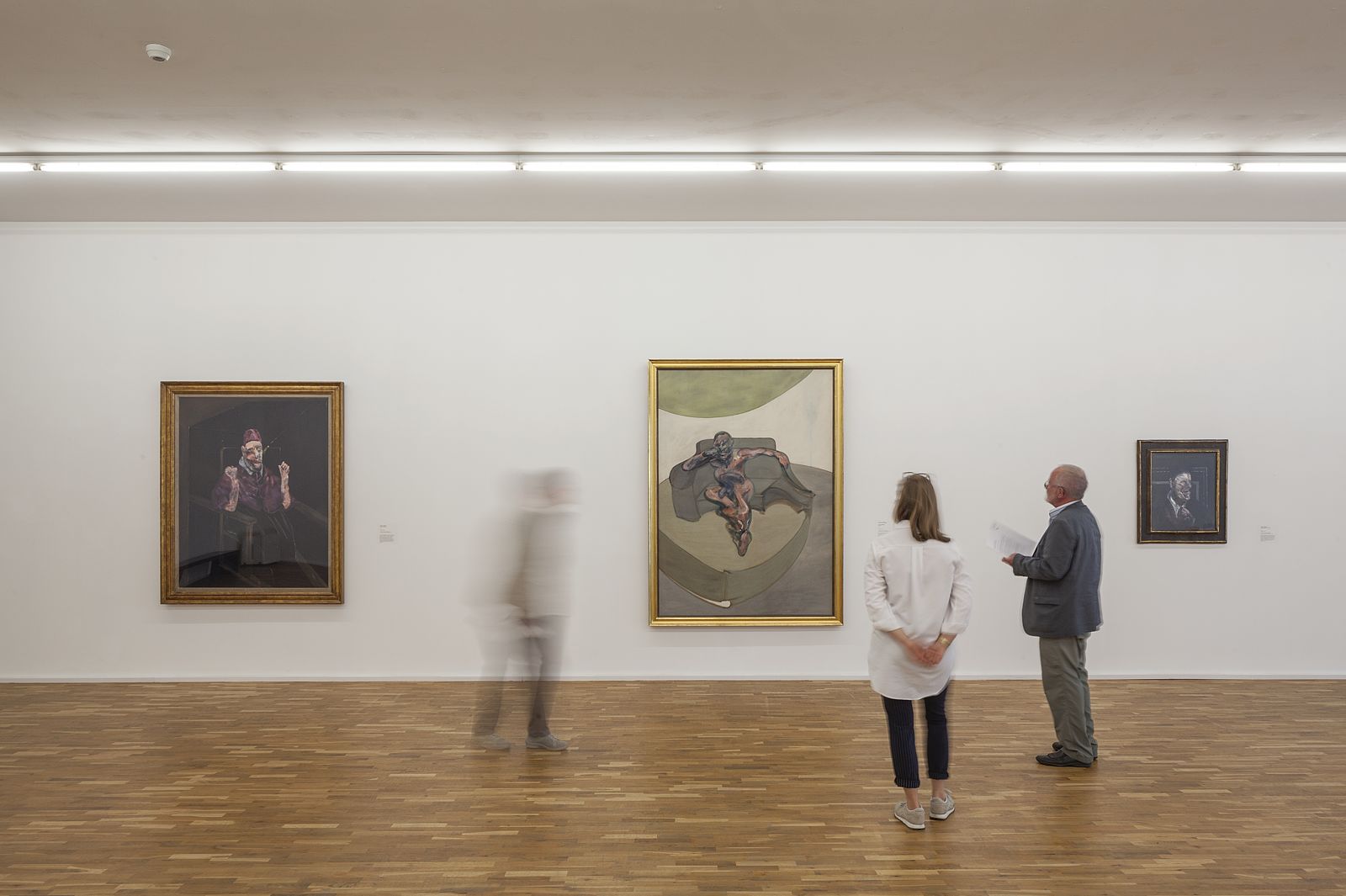 Inner conflict, isolation and violence are subjects that concerned Irish painter Francis Bacon. In acquiring the large-format painting "Portrait" from 1962, the Lambrecht-Schadeberg Collection has succeeded once again in extending its representative group of his works. Owning a current total of six key paintings, the Museum für Gegenwartskunst in Siegen now houses one of the most important Bacon collections in Europe.
Basically, the works centre on humanity. Often man is depicted as a torso-like, deformed and surreal figure. It is only through distortion and deformation – in Bacon's view – that it becomes possible to approach an existential reality. The aim is to confront the viewer with reality, for him to be assaulted, besieged and even overpowered by it. Emotions should not be triggered by the motifs alone but provoked directly in the painting – in Bacon's bodies of colour.
The pictorial space also plays a decisive part here. It is frequently constructed in a contradictory fashion, sometimes enclosing those portrayed like a cage, sometimes appearing impenetrable and empty.
As a rule, Bacon refers to already existing images, in paintings, photographs and films, which he aims to bring closer to the reality of life through re-formation. Bacon himself spoke of a new realism, which he termed "recreation".
For his ability to depict reality so directly and without mercy, Francis Bacon received the 3rd Rubens Prize from the City of Siegen exactly fifty years ago.
In the meantime, the Lambrecht-Schadeberg Collection encompasses representative works from all of Bacon's creative phases. They include a painting from Bacon's famous Pope series after the original by Diego Velázquez dating from 1957, as well as one of his brightly-coloured self-portraits from the late work ("Study from the Human Body and Portrait", 1988). The landscape painting "Study for a Landscape After Van Gogh" from 1957 is part of a series based on a work by Vincent von Gogh.
Sponsored by Maschinenfabrik Herkules, Bald AG, Hees Bürowelt, Schloss Apotheke Siegen and Waldrich Siegen.