Bridget Riley
12th Rubens Prize of the City of Siegen
1.7.–11.11.12
The artist Bridget Riley, who was born in London in 1931, is one of the most distinguished female painters of our time. On July 1, 2012 she was honoured for her life's oeuvre with the City of Siegen's Rubens Prize. The award is presented every five years to a painter living in Europe in honor of his or her lifetime's artistic accomplishment. On this occasion, the Museum for Contemporary Art Siegen honored Bridget Riley with an exhibition.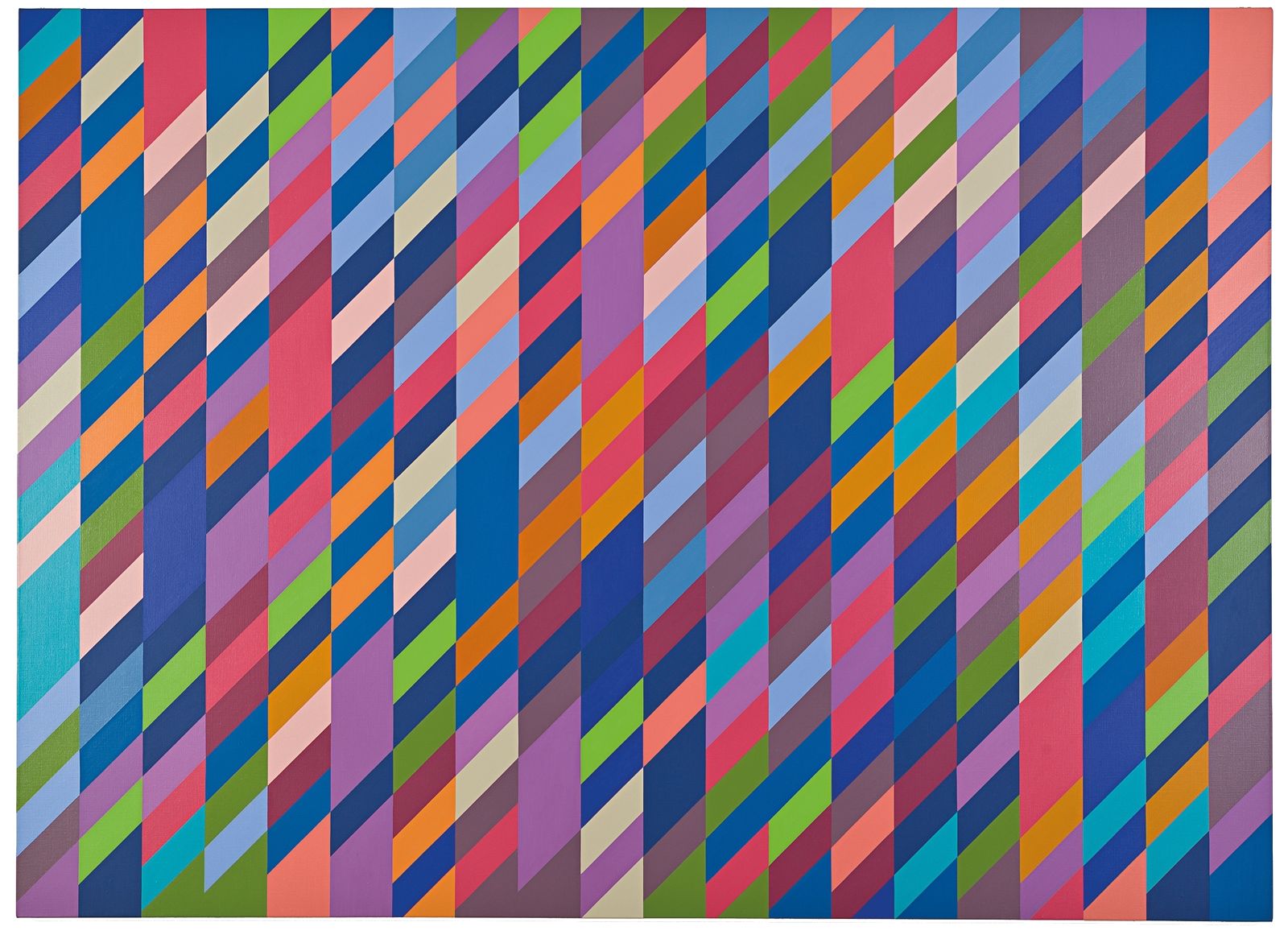 "The pleasures of sight have one characteristic in common – they take you by surprise. They are sudden, swift and unexpected."
(Bridget Riley)
In her paintings Riley examines consistently the phenomenon of seeing, thus dealing with the epic questions of western art: How do we experience the world and how does this affect the way an image is created?
For over fifty years Bridget Riley has dedicated herself to painting without compromise and with high precision. As early as the 1960s her radical artistic position – classified back then as Op Art – gained international attention. During this time she created paintings in black, white, and grey displaying shimmering and vibrating picture structures constructed out of simple shapes.

In 1967 Bridget Riley began changing her picture language and started to use colour. Since then she has fully turned to exploring colour and its relation to light. She began composing pictures that seem to shift, growing out of abstract colour fields and evoking new sensations during the act of seeing: The rhythmically placed lines, arches, or diamonds cause the picture surface to undulate. Stripes melt away into the distance, unfolding their own individual colouration upon closer inspection. Neighboring colours encroach and cause new colour lights to appear. Next to the impression of movement, the specific composition of colours and shapes also conveys the impression of volume or three-dimensionality. Additionally, the colours and shapes change their form of expression depending on the viewer's point of view.

Bridget Riley herself conceptualized the exhibition in the Museum for Contemporary Art Siegen, which features work groups from 1980 on. In these groups of works, various strategies of lining up and intertwining stripes, rhomboid and curved figures, but also circles are presented. Riley has chosen a special form of presentation. By positioning juxtapositions of two or three pictures in a total of 12 museum rooms she intensifies the effects of colour and shape through comparison. The result is an exciting and invigorating visual experience. The exhibition also include two wall-sized paintings and a drawing encompassing and specificly designed for an entire wall.
The exhibition was realized in cooperation with the city of Siegen.
We thank the sponsors, namely the Peter Paul Rubens-Stiftung, British Coucil, RWE, Sparkasse Siegen.
The exhibition film was funded by hauser lacour kommunikationsgestaltung, Heinrich Georg Maschinenfabrik, Krombacher, RWE.